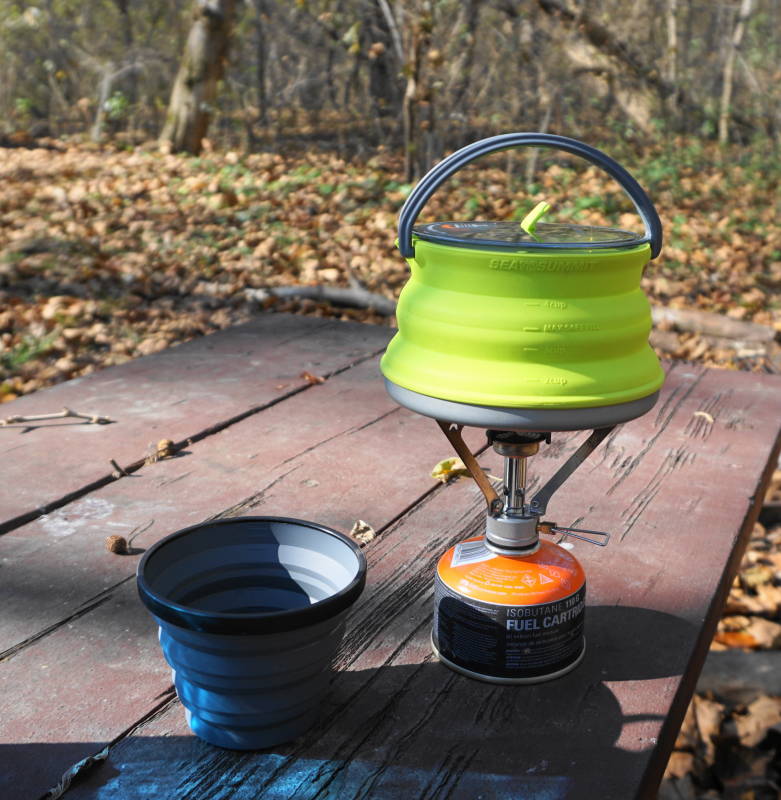 Useful Information
Part of remembering Arthur is to encourage you, oh fellow travelers on the twisting road of life, to get out and spend some quality time in nature. There are many ways to do this, you can hike, bike, paddle, watch birds, or just lie on your belly in the grass and watch some bugs with a magnifying glass. I also encourage you to be a thoughtful steward of our wild places and always follow Leave No Trace principles.
What follows are a series of short equipment reviews and "how to" informational pieces to help you on your travels. These will be practices or equipment that I use on a regular basis on my adventures. Nobody is giving me this stuff or compensating me in any way. Good gear is simply good gear and I like to support companies and individuals who have great ideas or produce good stuff. On the other hand if something is not so great be sure I'll tell you.
So get out, enjoy yourself, and have a spare thought every now and then for a young man who left us far to early.
 Trent Carbaugh, 2019
Questions or comments should be directed to me at,
adc0125@outlook.com
SeaToSummit X-pot Kettle
Sock Monkey Rating: 5
Specs:
Weight – 6.5 oz.
1.3 liter (mostly)
1.25 inches thick when folded
6 x 3.5 inches open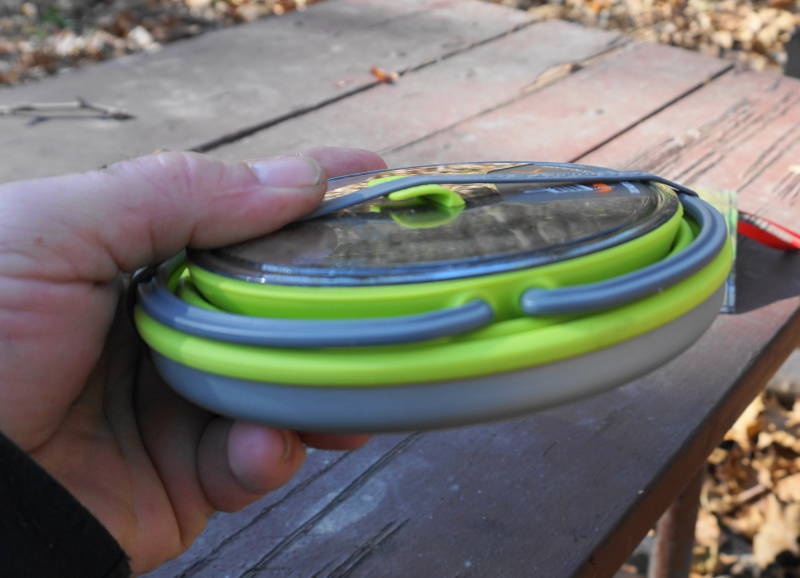 When traveling by bicycle light gear is good but often using the limited space in your bags takes precedence over a small penalty in weight. This also very much depends on where you are going and what you are doing, trade-offs everywhere.
The SeaToSummit X-Kettle is one of those trade off pieces of gear. It's a little heavier than an aluminum or titanium pot but since it is a collapsing pot (down to about the size of a small Frisbee) it fits nicely in a bikes frame bag or micro pannier. If you are hiking it fits well into spaces in a backpack such as tucked beside the inner back panel or in an outside gear pocket.
Made with a hard anodized aluminum base and a cleverly designed food grade silicone collapsing body this is a piece of well made gear. It has a smoke tinted hard plastic lid and two nylon handles that are slightly offset from each other that allow good control when pouring boiling water out of the pour spout on the pot. The X-pot is easy and safe to use as long as you use care with stoves that have a narrow base or are tall. The X-pot has a wider base than many pots and you must use care to prevent tipping with some set ups.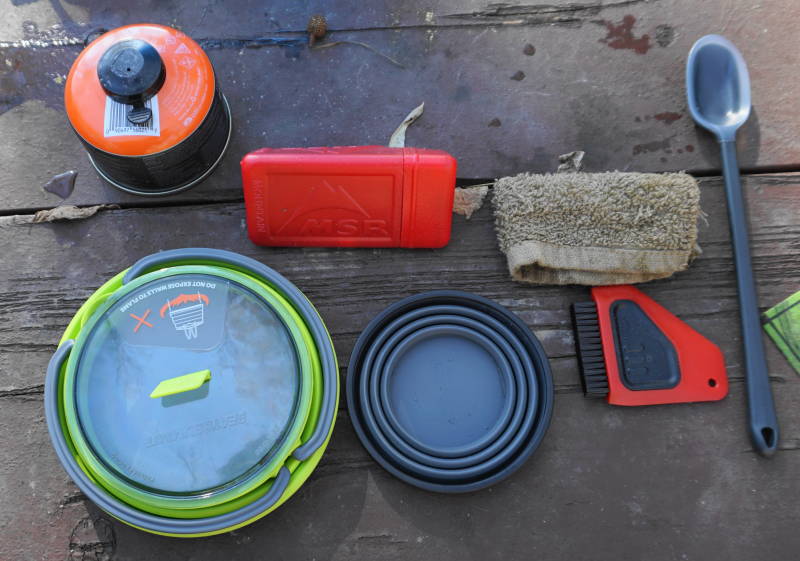 Pros:
If you are preparing hot water based meals (freezer bag meals or freeze dried meals) the X-pot is a great choice. Although certainly possible, it can be a little more difficult to cook directly in the pot, mostly in the cleaning of the pot afterwards.
The big advantage is in packing the thing, my experience with pots of any type is that they are always just a little too big or the wrong shape to fit where I want them to. I don't have that problem with the X-pot.
When folded the X-pot holds two X-cups, similarly designed silicone collapsible cups, which are okay, but I personally don't use one much. Usually I carry one X-cup with a recycled pantyhose screen (held on to the cup by a rubber band) to collect food waste from draining excess water from freezer bag cooking and a small micro fiber cloth for drying things off after cleaning.
You can heat enough water in one shot for two meals, or for one and tea or coffee. For two people this saves a little fuel and is very convenient.
Cons:
One big disadvantage, for me at least, is that you are limited to using an isobutene cartridge stove or a liquid fuel stove for cooking. The X-pot works very well with my MSR Pocket Rocket cartridge stove as well as my MSR Whisperlite liquid fuel stove (a leftover from my mountaineering days, only used now in colder conditions). I mostly prefer to use a Trangia alcohol stove, slower, but pleasant to use, lighter and smaller, and much more environmentally friendly. It is very difficult to control the flame on an alcohol stove enough to protect the vulnerable silicone sides of the X-pot especially in windy conditions. This is also the reason that you can't use it on a wood fired backpacking stove or a campfire.
How I Use This
If I am planning on going fast I use the Pocket Rocket stove and the X-pot. Usually this is for short over-nighters or I use this set up when I know I'm going to be in bad weather, it's just faster and easier to use in rain and storms. This set up is also good for hot drinks on day hikes or rides in colder weather. I always carry at least one stainless steel single wall water bottle that can be placed in a fire to heat water in an emergency or if my stove or pot has a catastrophic failure.
For longer trips I switch to my alcohol stove and a smaller aluminum pot when time is not so much of an issue.
SeaToSummit
SeaToSummit is an Australian company that makes some extremely good equipment, plus they are quite fun to watch. Aside from the X-Pot I use and highly recommend their dry bags which are offered in a range from superlight vented bags for backpacking and bikepacking to sturdy wear resistant bags for use in paddle sports. I have never had a leak or failure in any of the SeaToSummit bags I use or for that matter any problems at all with any of their products. Check them out at: seatosummitusa.com