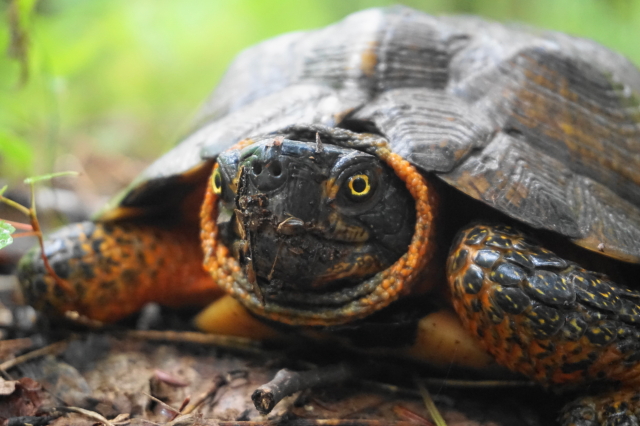 On the afternoon of August 17th, 2017, I was having one of those days when I just didn't want to stop walking. I had gone to do my walk on Level 61 on the C&O Canal, picked up some trash and took some photographs. When I was finished I decided to stop in Green Ridge State Forest to take a walk on part of one of my favorite trails, the Big Run/Deep Run Trail. This trail runs through a deep stream valley between steep tree covered mountains. There are small waterfalls, cliffs and bluffs, and some spectacular trees. Between the stream, the trees, and the pleasant sounds of the creek I find this a very beautiful and calming place.
As I was walking along I had a chance encounter with a fine strapping Wood Tortoise and we had a talk. What follows is our conversation written in interview format.
TC- Hello Mr. wood tortoise, how are you today?
WT- Well, okay for now human, um, you're not going to eat me are you? Your kind used to hunt mine because we evidently taste pretty good.
TC- No, no, not at all, I wish you well. Can we talk a bit?
WT- Okay, I suppose that it wouldn't hurt, I could probably use a little pleasant conversation; I have not been having a good time lately.
TC- What is your name?
WT- Chahgrahmemzen, Fourteenth Magumba of the tribe of Caladius, but you can just call me Chaz. Tortoise names and titles are hard for you humans, and we do tend to overdo it a bit.
TC- So Chaz how do you find yourself in this pleasant piece of country?
Chaz- I'm escaping the tyranny and oppression of some other reptiles who have taken over my old home; it's quite a sad story.
TC- Would you like to tell me about it?
Chaz- I suppose so, it probably wouldn't hurt to get this off my shell a little.
TC- Please go on sir.
Chaz- I was living down along the river by that big stone and concrete thing where the water in the trough starts. This was a very nice place to live, lots of food, the water was close and two of my closest friends lived there as well, Hectoramus the Spendifourus known as Hector and Charamadan the Orange Footed known as Charlie, both of tribe Astroconicus, they were box tortoises, we had a good life till the snapping turtles showed up. Then things got bad.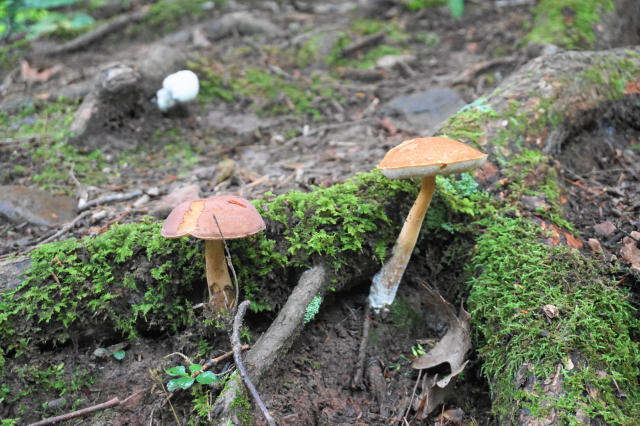 TC- It sounds like you were living close to Lock 67 on the C&O Canal. What happened to your friends, by the sound of your voice it sounds like something bad?
Chaz- As I recall there was a sign there for Lock 67, and yes my poor friends are gone!
At this point Chaz broke down and had tears flowing down his cheeks, I offered him a tissue and we just sat for awhile watching the trees while Chaz quietly cried.
Chaz- I…, I think I'm ready to go on now.
TC- Take your time, sounds like this is going to be hard for you.
Chaz- Yes it will be, but the tale needs to be told. Most of you humans don't understand that there is much animosity between turtles and tortoises. To you we look the same, but we are very different. Turtles live in and around water and tortoises live on dry land. Normally this is not a problem as we have little contact other than an occasional head nod or "how'ya doin" , common courtesy between related species. This all changed when the snapping turtles showed up. Snapping turtles are the biggest fellows around (and have a bite that can take off your leg if you're a tortoise) and they like to tell others what to do, most of the time you can just ignore them and move on. Our problem is that these snappers had organized themselves into a group; one big snapper even had a trained timber rattlesnake that rode on his shell, very dangerous.
Hector and Charlie were box tortoises, as I said, but they were very orange box turtles, not the typical mottled brown and yellow variety. For some unknown reason this offended the snapping turtles greatly and when they ran into Hector or Charlie they threw mud at them and teased them about their appearance. They would say things like "Ooh, you're too orange, let us cover you in mud so you can be gray like us!" I got less of their ire as I am a little gray to begin with and am bigger than a box tortoise, but I still got bullied and teased about being a "dirty tortoise" and not a turtle. This went on for awhile, and then things got ugly.
TC- So, what were the other water turtles doing during all of this?
Chaz- The water turtles kind of ignored things for awhile, then it became more expedient and safer to support the snappers, and then most of the turtles started believing that there was something good and correct about what snappers were saying and joined in. Those red and yellow-eared sliders are not the brightest of turtles.
TC- So what happened?
Chaz- Bear with, me this is the hard part, one day after months of abuse, they caught Hector alone by the side of the water. Charlie and I heard from a heron what was going on and started moving to the scene (we tortoises don't move fast you know). When we got there the snappers had Hector turned over on his back and were sliding him to the water, to the cheers of the other turtles. Hector was buttoned up tight in his shell as he slid into the water. Charlie and I were trying to get to him, as tortoises don't swim well, to try and save him but were held back by the snappers and their pet rattler. We saw Hector not even try to save himself! He just kind of gave up and sank to the bottom; guess he had just had enough and couldn't take it anymore. Though Charlie and I were in shock we realized that we had to run for it and get away or we would be next.
We did get away and when we stopped to rest we decided to move from our unhappy situation and try for the woods to the north of us. This meant we had to cross a road; for a tortoise this is one of the more dangerous things we can do.  We climbed a steep embankment to the edge of the road. I had to help Charlie quite a bit, we wood tortoises are better climbers than box tortoises, and we got to the edge of the road. It seemed to be clear and we beat feet for the other side and the deep forest. I had almost gotten across and Charlie was a little behind when the truck came by. It was a big old pickup truck with a flag on a flagpole mounted to the back. The flag was yellow with a rattlesnake and the words "Don't Tread on Me". The driver swerved across the yellow lines to hit my friend with his tires. I heard the sickening crunch as Charlie's shell was crushed. I got to the edge of the road and down into the weeds and stopped in shock. The truck had turned around and stopped were Charlie's crushed body lay, then the driver and his passenger got out and laughed at Charlie! What is wrong with you humans! And they call my kind cold blooded.
TC- Chaz, I'm so sorry, it's no excuse, but not all of us humans are like that.
Chaz- I know…humans are just like us tortoises and turtles, some bad some good. But why would you put up a powerful and important symbol like that flag and then ignore what it means? Those men sure trod on Charlie, and they did it on purpose and then they laughed about it. I just don't understand.
TC- Me neither. In my human world I see things all of the time that make no sense. Folks say one thing but do another; espouse a belief in something good then ignore it because it's inconvenient or uncomfortable; just being mean and nasty for the sake of it… I don't get it any more than you do Chaz.
Chaz- Well TC thanks for talking to me, you seem like a good sort. It was good to tell my story.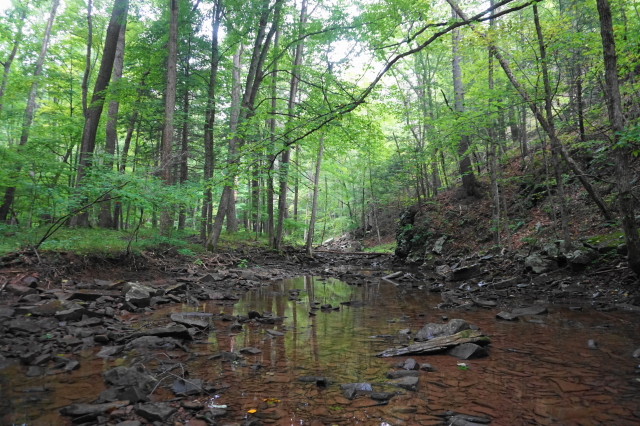 TC- What will you do now Chaz?
Chaz- I think I'll find a nice place to rest a bit then decide; I may just stay here, I might find some other wood tortoises and go back and fight. I'm just so sad and lonely now; I just don't know what to do.
TC- I wish you luck my friend, you want to share some crackers and water with me?
Chaz and I shared some crackers and water and some final pleasantries. Then we went our separate ways, Chaz off to start a new life, and I hope a better one; Me to contemplate the ridiculous power of willfully ignorant people (and turtles) in large groups.
TC, August, 2017
" These are the times that try men's souls. The summer soldier and the sunshine patriot will, in this crisis, shrink from the service of their country; but he that stands by it now, deserves the love and thanks of man and woman. Tyranny, like hell, is not easily conquered; yet we have this consolation with us, the harder the conflict the more glorious the triumph. What we obtain too cheap we esteem too lightly: it is dearness only that gives everything its value. Heaven knows how to put a proper price upon its goods; and it would be strange indeed if so celestial an article as FREEDOM should not be highly rated."       
Thomas Paine, The American Crisis, 1776