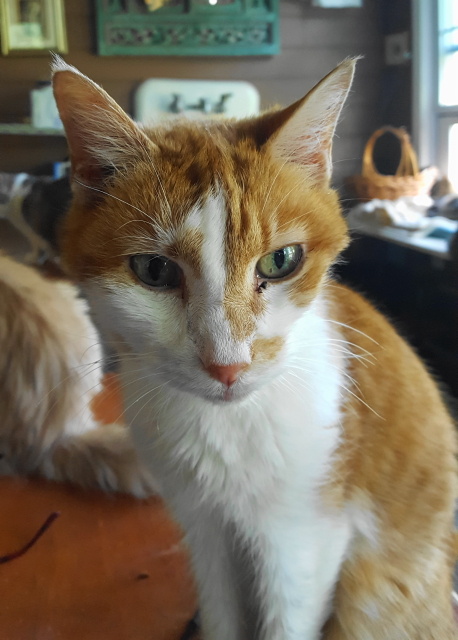 The George was my friend; George was an orange and white cat. George came to Cats Crossing Sanctuary with an older large orange tabby cat named Big George (George's actual name was Mini-George). They were very closely bonded having been together alone with each other for years. Not long after the Georges came to Cat's Crossing, Big George became ill and passed on to wherever it is that good cats go when they die. The remaining George became despondent and we worried that, as so often is the case, he would waste away and pass soon as well. But not my George, he bonded with me and became my pal; I became his replacement Big George.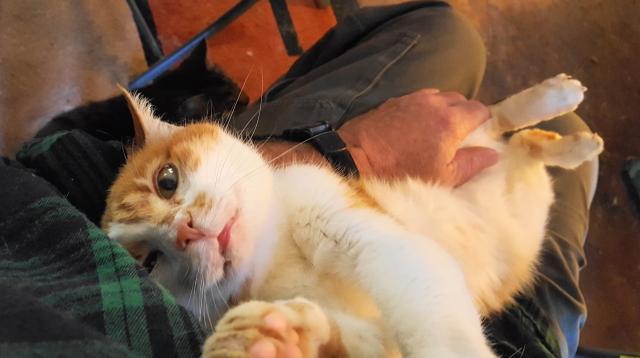 George was a unique cat, even for Cat's Crossing which only takes in cats that are unadoptable through normal channels.  He would often follow me about, get on my lap whenever I sat down, and pester me unceasingly with his deep "yeeeeowwww" for food. For a small cat he sure could eat, I'm not exactly sure where all of the food went. At Cat's Crossing, though dry food is always available, wet food is dished out late in the afternoon. We took to using George as an alarm for when it was time to feed. At other times he would lay in my arms, on his back like a little baby and make happy George noises as I rubbed his belly. The older and more feeble George got the more he would adopt this position and fall asleep, usually with one front paw resting gently on my face.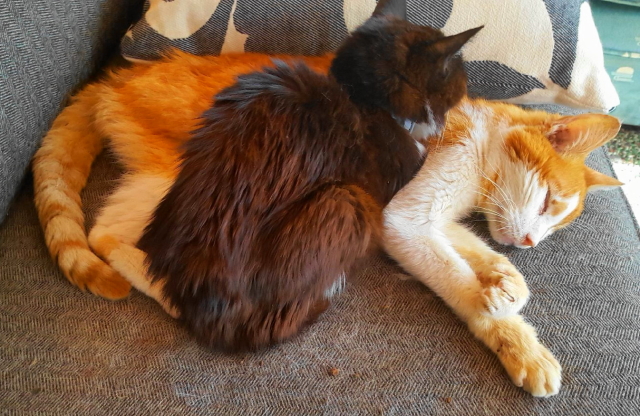 In 2016 George was diagnosed with lymphoma, the start of kidney failure (older cats usually succumb to kidney problems before something else gets them), and was having mini-strokes. The strokes were the worst part, he would walk along and just fall over and twitch, and there was not much that could be done to help him. These episodes didn't last long and soon he would be up looking for food like nothing happened. We were expecting him to die at any time but he just kept on going. Tough cat.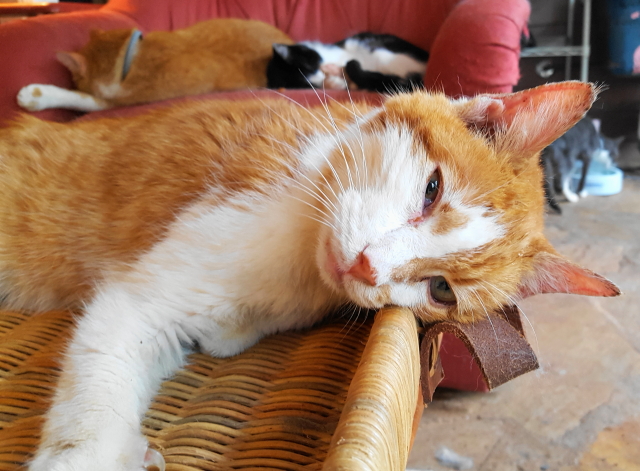 When I went in for heart surgery, I thought that I wouldn't ever see George again – but he kept on going and even yeowed at me over the telephone. George stuck by me through all of my trials and tribulations of 2016 and 2017. His health did get progressively worse over the last year of his life; he became less agile and developed a list to one side when he walked. You also kind of had to catch him when he tried to make one of those improbable leaps that cats are so prone to do. The last month or so he was having a hard time cleaning himself so I would wipe him down good with baby wipes and at one point he got a full blown cat bath (always great fun), followed by a long nap in my arms swaddled in a warm dry towel.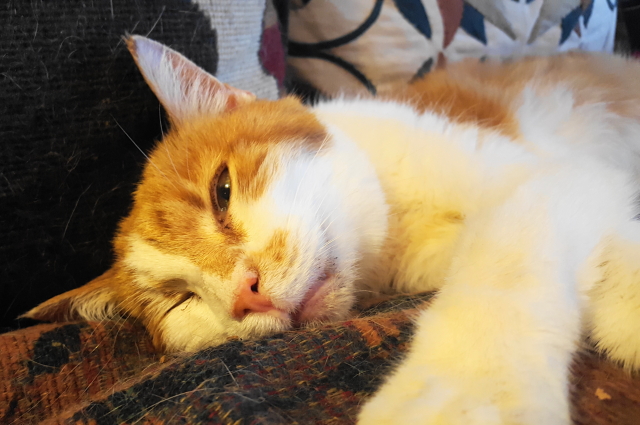 He still kept eating well though, not one to miss a meal my George.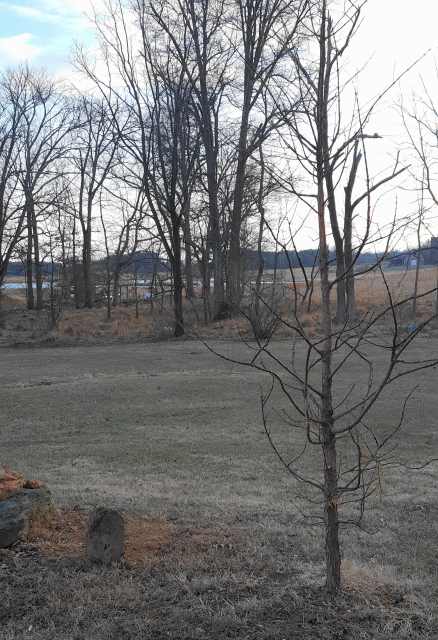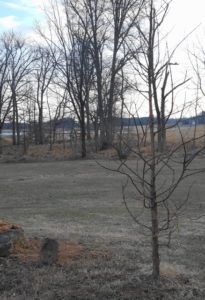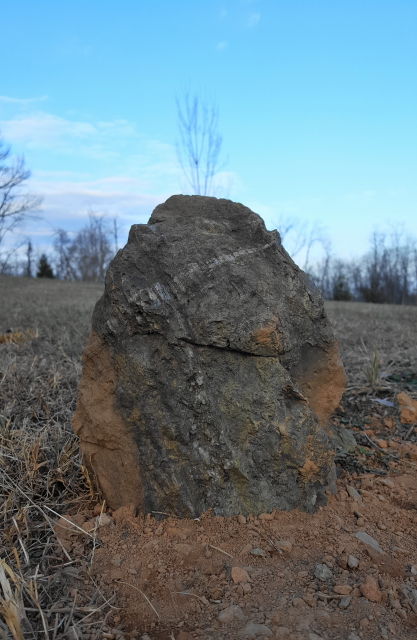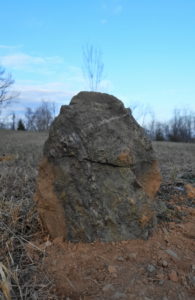 George finally died at the age of 19,  a few days after Christmas 2017. I miss him.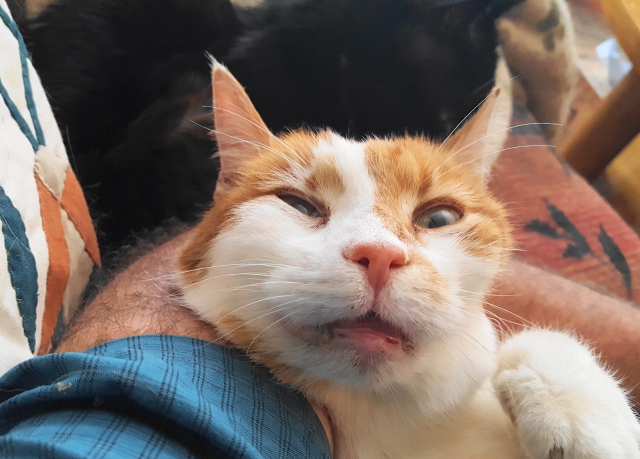 I learned a great lesson from my friend George, that friendship should be a great driving force in our lives whether we are the same species or not. George was not going to leave me until he had no choice, and I was going to love him and care for him as long as I could. It may seem like a simple thing to love a cat, but simple positive acts in large numbers can change the world.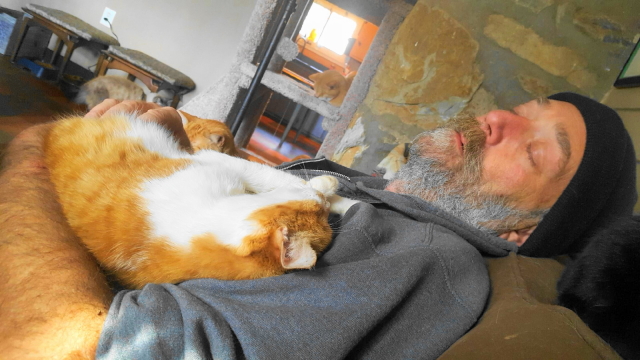 Pet a cat soon and think of my friend George.
TC, January 2018
Cat's Crossing Sanctuary
Cat's Crossing Sanctuary, a non-profit corporation, was founded by my friend and business partner Darcy Swope to provide a place for older, disabled, and otherwise unadoptable cats a place to live out their lives in peace and comfort. I get to help out.