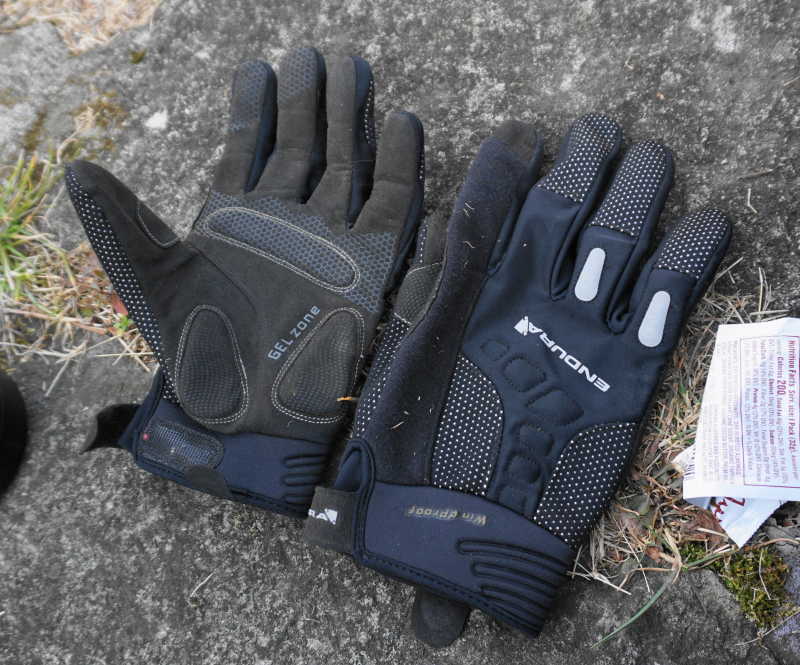 I'm hard on gloves no matter what they are for, usually I wear them out relatively quickly. I also have hands that are hard to get a proper fit with many manufacturers patterns either my fingers are to long or my hands are just a bit too wide to be comfortable in a glove.
I purchased a pair of full finger Endura Thermal Luminite gloves three years ago and have yet to wear them out, with no signs, other than a little unpleasant smell (that's entirely on me), of wear. Plus they fit incredibly well in addition to effectively stopping the wind. The gloves have a layer of Thinsulate insulation which will keep your hands warm down to temps in the 40's and the gloves are not too warm in higher temperatures(60's). When it is warmer I switch to light mountain biking gloves, Endura gloves as well, and I do use the Luminite gloves for hiking as well in mid range temps.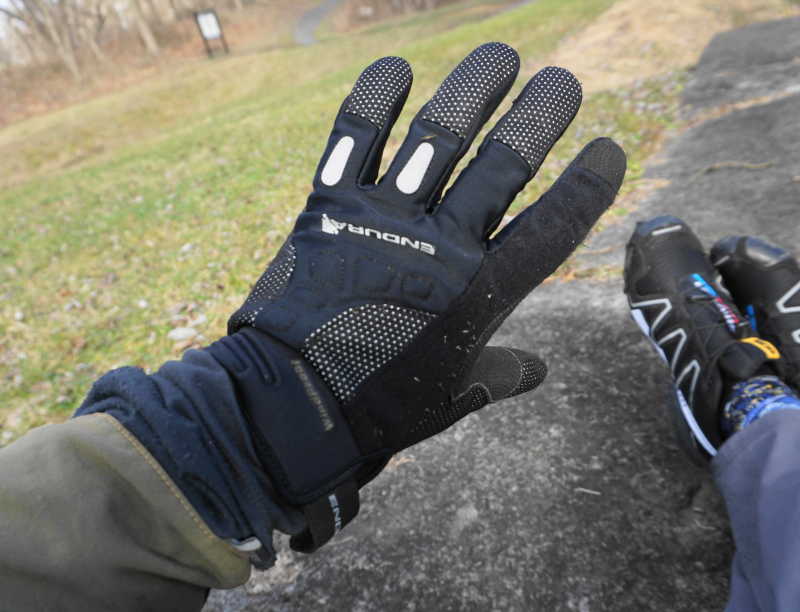 The gloves have three light gel pads built into the palm which are just enough padding to take the edge off of vibrations. The fingers and palms also have silicone overlays for grip on the palm and tips of the index and middle fingers, though the silicone finger overlays are not easy to use to manipulate electronic touch screens. There are also reflective patches on the fingers, back of the hand and on the thumb for low light safety. A neoprene cuff with a hook and loop fastener closes the glove comfortably around the wrist keeping out drafts. My gloves are not waterproof but the newer versions of the Luminite gloves are, which is a nice improvement. One thing that I do really appreciate in the design of these gloves is that if they are wet they are not hard to get off of your hands and they do not have that annoying tendency of some gloves to turn themselves inside out when peeling them off of your wet hands.
Endura is a Scottish company that designs and manufactures some of the most well thought out and built bicycling clothing available. Their gear survives Scottish adventures, which Scotland being a beautiful place and all, is not known for its delightful tropical, rain, snow and ice free weather.
Trent Carbaugh, January 2020
A note on keeping your hands warm for cold weather riding;
When riding in really cold temperatures, and for bikepacking in general don't think that you need to have "biking" specific clothing. Most bike clothing is not suitable for freezing or below freezing temperatures and is generally not the best stuff to be walking around in for long periods, and you will be pushing your bike more in winter conditions than otherwise. In winter camping it is very important to keep your core temperature up, this also will keep your hands and feet warmer, beware though of being too warm as this will cause sweating; wetness can be very dangerous in cold weather.
Generally I have found that if an article of clothing is suitable for climbing it will work on a bike. Clothing for alpine or ice climbing is usually fitted a little closer to the body than ski wear meaning that your pants cuffs won't get caught in your bikes chainring as you pedal along. In a certain sense climbing and bike adventuring are quite similar in the level of physical activity. From a practical sense being able to layer your gear is very helpful as is being relatively water and windproof.
But to keeping our hands warm as we venture forth into the cold…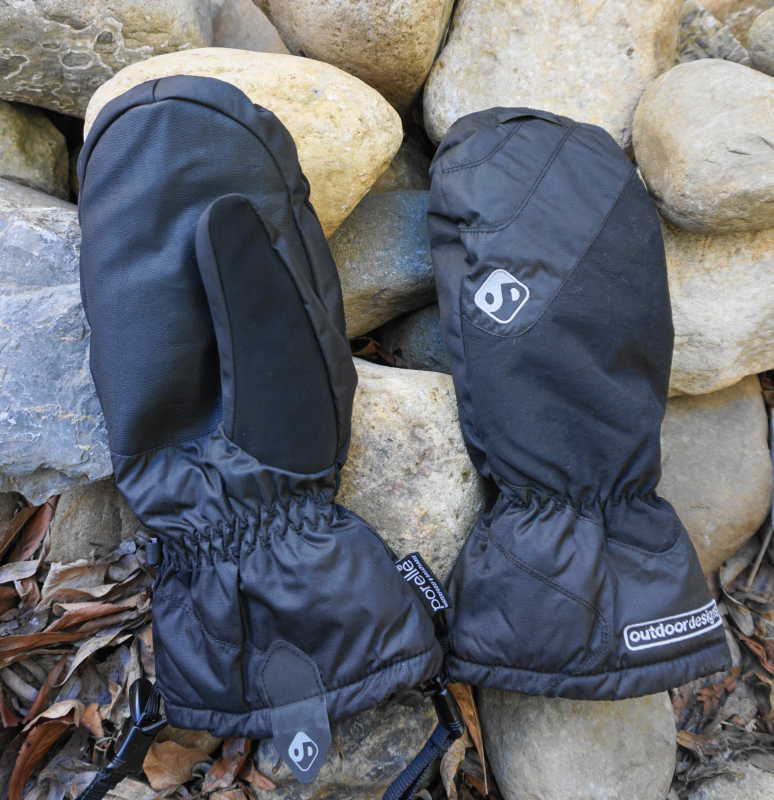 Pogies are a great invention for really cold conditions, these are insulated covers that mount onto your handlebars covering your hands as well as your bike controls. Great for epic adventures in Alaska, Iceland, or other really cold places where studded ice tires are needed. Being in the mid-Atlantic region, where conditions can be weirdly variable I prefer a more variable approach.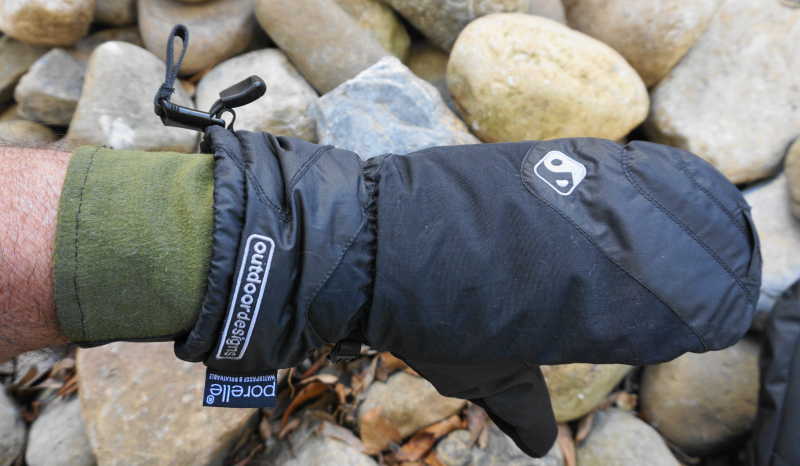 I use a pair of mountaineering over-mittens which are everything proof and very warm. They fit well enough that I can manipulate the controls on my bike with no problem. I can also, if necessary, wear light gloves under the mittens for warmth when I pull them off to indulge in my questionable habit of winter photography.
Any well fitted climbing mitten will work as long as they are of a breathable waterproof and windproof material and well insulated. A little large fitting is better than too snug so you have the option of under gloves.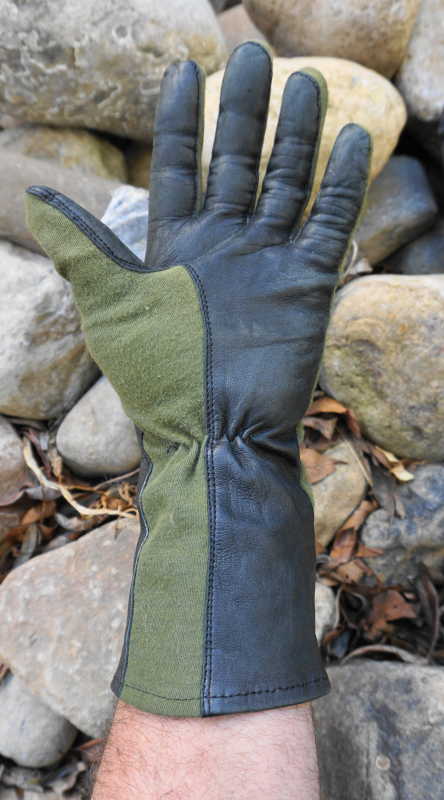 For under-gloves I use military surplus air crew gloves, which are comfortable and made to manipulate mechanical things, they are very durable as well. They are also very fire resistant which would be useful if your bike catches on fire in a ice induced crash.